Overview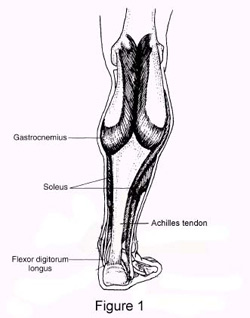 A tendon is a tough yet flexible band of fibrous tissue. The tendon is the structure in your body that connects your muscles to the bones. The skeletal muscles in your body are responsible for moving your bones, thus enabling you to walk, jump, lift, and move in many ways. When a muscle contracts it pulls on a bone to cause movements. The structure that transmits the force of the muscle contraction to the bone is called a tendon. Tendons come in many shapes and sizes. Some are very small, like the ones that cause movements of your fingers, and some are much larger, such as your Achilles tendon in your heel. When functioning normally, these tendons glide easily and smoothly as the muscle contracts. Sometimes the tendons become inflamed for a variety of reasons, and the action of pulling the muscle becomes irritating. If the normal smooth gliding motion of your tendon is impaired, the tendon will become inflamed and movement will become painful. This is called tendonitis, and literally means inflammation of the tendon.
Causes
The two most common causes of Achilles tendonitis are Lack of flexibility and Overpronation. Other factors associated with Achilles tendonitis are recent changes in footwear, and changes in exercise training schedules. Often long distance runners will have symptoms of Achilles tendonitis after increasing their mileage or increasing the amount of hill training they are doing. As people age, tendons, like other tissues in the body, become less flexible, more rigid, and more susceptible to injury. Therefore, middle-age recreational athletes are most susceptible to Achilles tendonitis.
Symptoms
Achilles tendonitis may be felt as a burning pain at the beginning of activity, which gets less during activity and then worsens following activity. The tendon may feel stiff first thing in the morning or at the beginning of exercise. Achilles tendonitis usually causes pain, stiffness, and loss of strength in the affected area. The pain may get worse when you use your Achilles tendon. You may have more pain and stiffness during the night or when you get up in the morning. The area may be tender, red, warm, or swollen if there is inflammation. You may notice a crunchy sound or feeling when you use the tendon.
Diagnosis
On examination, an inflamed or partially torn Achilles tendon is tender when squeezed between the fingers. Complete tears are differentiated by sudden, severe pain and inability to walk on the extremity. A palpable defect along the course of the tendon. A positive Thompson test (while the patient lies prone on the examination table, the examiner squeezes the calf muscle; this maneuver by the examiner does not cause the normally expected plantar flexion of the foot).
Nonsurgical Treatment
In order to treat achilles tendinitis effectively, it is important to complete a thorough examination of the entire lower extremity. Once the true cause is identified, a comprehensive treatment program can be initiated to reduce inflammation and improve any faulty lower extremity biomechanics. Treatment options may include biomechanical analysis of gait. Splinting/bracing to alleviate the strain on the tendon. Soft tissue mobilization/manual therapy to decrease inflammation and promote healing of the tendon. Strengthening/flexibility and proprioceptive exercises. Home exercise program. Modalities for pain and inflammation (i.e. ultrasound, iontophoresis, electrical stimulation, ice). Methods to alter faulty mechanics (i.e taping, orthotics). Education about lifestyle changes (i.e. proper shoes, activity modification).
Surgical Treatment
Surgery for an acute Achilles tendon tear is seemingly straightforward. The ends of the torn tendon are surgically exposed and sutures are used to tie the ends together. The sutures used to tie together the torn tendon ends are thick and strong, and are woven into the Achilles both above and below the tear. While the concepts of surgery are straightforward, the execution is more complex. Care must be taken to ensure the tendon is repaired with the proper tension -- not too tight or too loose. The skin must be taken care of, as excessive handling of the soft tissues can cause severe problems including infection and skin necrosis. Nerves are located just adjacent to the tendon, and must be protected to prevent nerve injury. If surgery is decided upon, it is usually performed within days or weeks of the injury. The idea is to perform the repair before scar tissue has formed, which would make the repair more difficult. Some surgeons may recommend delaying surgery a few days from the initial injury to allow swelling to subside before proceeding with the repair.
Prevention
To lower your risk of Achilles tendonitis, stretch your calf muscles. Stretching at the beginning of each day will improve your agility and make you less prone to injury. You should also try to stretch both before and after workouts. To stretch your Achilles, stand with a straight leg, and lean forward as you keep your heel on the ground. If this is painful, be sure to check with a doctor. It is always a good idea to talk to your doctor before starting a new exercise routine. Whenever you begin a new fitness regimen, it is a good idea to set incremental goals. Gradually intensifying your physical activity is less likely to cause injury. Limiting sudden movements that jolt the heels and calves also helps to reduce the risk of Achilles tendonitis. Try combining both high- and low-impact exercises in your workouts to reduce stress on the tendon. For example, playing basketball can be combined with swimming. It doesn?t matter if you?re walking, running, or just hanging out. To decrease pressure on your calves and Achilles tendon, it?s important to always wear the right shoes. That means choosing shoes with proper cushioning and arch support. If you?ve worn a pair of shoes for a long time, consider replacing them or using arch supports. Some women feel pain in the Achilles tendon when switching from high heels to flats. Daily wearing of high heels can both tighten and shorten the Achilles tendon. Wearing flats causes additional bending in the foot. This can be painful for the high-heel wearer who is not accustomed to the resulting flexion. One effective strategy is to reduce the heel size of shoes gradually. This allows the tendon to slowly stretch and increase its range of motion.